Photograhper Team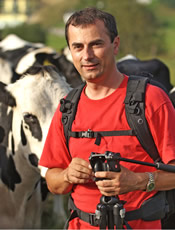 Hans-Peter Zwicklhuber
Kremsmünster / Upper Austria
Agricultural teacher
Founder of "agrarfoto.com"
Photographer and film maker of Agriculture and Forestry
Trained cattle photographer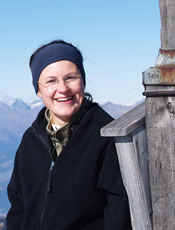 Andrea Jungwirth
Vienna / Austria
PR Mentor
Nutritionist
Photographer specializing in landscapes, flora and fauna, culinary art and food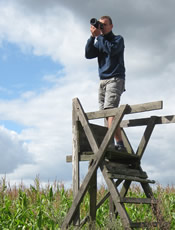 Jörn Gläser
Wedemark / Germany
Student of Agricultural Science
Photographer of modern agricultural engineering in northern Germany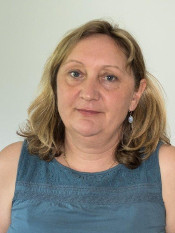 Elisabeth Zwicklhuber
Kremsmünster / Austria
Agrarfoto Office Management
Biomedical analyst
Photograph flora and fauna, Hildegard herbal
Scenes from farmlife
Background
The first photos, taken with a digital camera, were the inspiration for what agrarfoto.com is today. In 2001 the School of Agriculture in Schlierbach acquired a small Canon digital camera. Hans-Peter Zwickelhuber, agriculture lecturer, had repeated goes with it and was thrilled with the results. A small archive soon came into existence. These pictures should not simply stay on the hard drive of a personal computer but should be able to be seen all over the world on the internet – that was the idea then.
The next step was to create a very simple homepage with these initial pictures. At this point there was still no notion of any commercial aspect.
Bernhard Weber – Chief editor of Austria's largest agricultural newspaper "Blink ins Land" – saw these first pictures and arranged a meeting with Hans-Peter Zwickelhuber. Now the ball was rolling: CDs of the first selections of farming photos – already known as "Agrarfotos" - were sent to several agricultural publishing companies. Their good reception led to the decision to programme a picture database. By 2002 already the database, programmed by the company "Globlnet" of Linz, was online. Agrarfoto.com was one of the first online picture databases offering the possibility to download high resolution pictures.
Over the following years the field of agriculture has been explored down to the smallest details. Numerous prizes and awards for Hans-Peter Zwickelhuber's have followed. Again and again, Agrarfotos have met with success in photography competitions across Europe.
From 2006 the one-man business grew into a team. Andrea Jungwirth of Vienna began to stock the database with pictures mainly from the area of food, Jörn Gläser of Hannover provided pictures from northern Germany's agriculture, Austria's Walter Schreiner started aerial photographs and Wolfgang Milan, also from Vienna, contributed pictures of folk culture.
Photographic technology has been ever more refined - HDR imagery, panorama, RAW image files, as well as state of the art Nikon technology guarantee superlative images.
The most important thing apart from modern technology is a broad agricultural knowledge and good contacts with farmers. Only when this is taken as given can compelling imagery from agriculture and nature sources be created.
Continuous meticulous work behind the scenes ensures the outstanding system that prevails at agrarfoto.com. Ultimately the right keyword determines whether an image will be found or not.
In addition to photography, film is becoming more and more important.
Since 2008, the database has also offered thousands of short video clips ("Footage"). This video material can be downloaded in the same full resolution as the photos, and is ideal for the creation of documentaries.
Today agrarfoto.com is one of the most comprehensive and well assorted agricultural image databases in and beyond the German speaking countries.
Photographing on the farms and fields and contact with the farmers provides great gratification.